Today (14/7/16) Mrs Guest came into our class to have a look at our great homework on William Shakespeare.Everyone had put a lot of work into this, which took two weeks. We are very proud.
Written by Jake.
Today Mrs Guest came into Cedars to look at our amazing Shakespeare homework. Mrs Guest loved our hard work and we all got one of her special stickers.
Written by (to follow).
Geography
Today (20/4/16) we looked at Ordnance survey maps of Birmingham. We learnt about what the different symbols mean and tried to find local landmarks.
John Joseph said, "I really enjoyed the lesson today (27.04.16),
trying to find the different places. It was a lot of fun."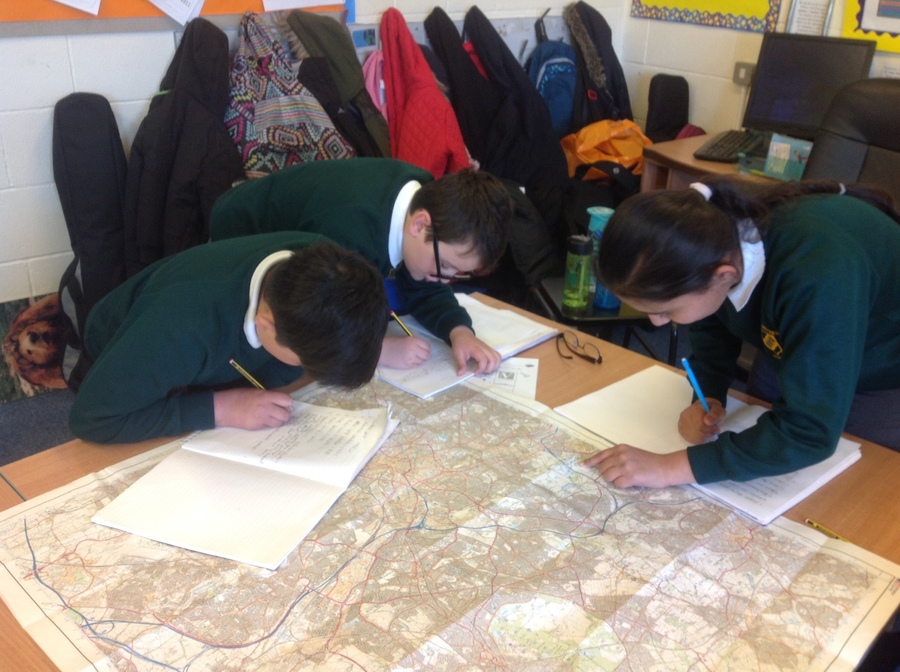 Some comments from the children who produced these excellent pieces of work.
"I really enjoyed finding out facts about Cadbury World. I especially enjoyed drawing and colouring the Cadbury World sign."
"I enjoyed making the BT Tower. I learnt that it is 192 meters tall (including the crane)."
"I loved making the BT Tower."
"I love art. I made the Town Hall. I really enjoyed making the design of the pillars."
"I enjoyed making the Rotunda. It was a lot of fun to do."
"I really enjoyed making the Sea Life Center. I made it with my best friend Tina. We had so much FUN!"
"I made Cadbury World. I think it turned out OK. It was brilliant making it."
" I really enjoyed making my Rotunda because it was a lot of fun and really, really messy."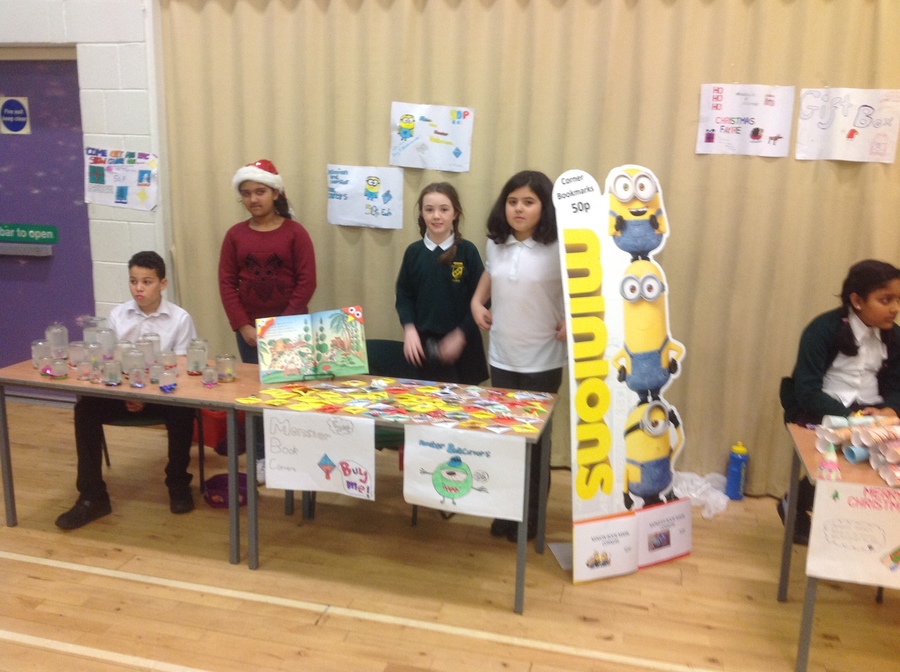 Selling the finished product. We sold all of our corner bookmarks and made £29.
A BIG thank you for all who supported us.
Cedars are becoming little entrepreneurs. They are making corner bookmarks to sell at the Christmas Fayre on 16th December at 3:30pm.
The bookmarks are only 50p each. Please come and support us.
Harry Potter Science at Great Barr Secondary School - Monday 16th November 2015.
The children's comments
"I enjoyed making the paper clip float." from Daniel
"I enjoyed the floating paper clip because at first it wouldn't float, but after it did.
It was like magic."
"I enjoyed the test tube work because it was very interesting how the colours changed."
"I enjoyed doing the secret messages." from Mamunia
"I enjoyed the tooth paste because we had to mix it and it exploded out like a volcano."
from Creshelle
"I enjoyed making Hagrid's toothpaste." from Hamzah
"I really enjoyed making Hagrid's toothpaste because it looked like a mini volcano and it was easy to make." from Lauren
"I enjoyed using the Bunson Burners. We had the chance to get our Bunson Burner Licence. Lilly, Christian and I got our licences."
"My favorite part was when I got to light the Bunson Burner . It was fantastic. I also got my Bunson Burner Licence." from Lilly
"I ENJOYED EVERYTHING. It was fun."
" I enjoyed it all. It was so much fun." from Joshua
"I really, really, really enjoyed everything. The best thing was the Harry Potter tooth paste."
from Ethan
Over the past two weeks, we have been working on
performance poetry in our English lessons.
We hope that you enjoy our interpretation of "An Everything Pizza."
written by Linda.
Our topic this term is Ancient Greece.
Today we planned and designed our own Greek sandals.
Our working wall on Earth, Sun and Moon.
We were set homework on this topic and our projects look great.