Welcome To Pines!
This is our page where we will be sharing all of our wonderful work.
Pines having a buzzing time.
On 29th June Pines were invited to visit Priestly Smith School. We met a man who is a Bee Keeper. The Bee Keeper told us some interesting facts like: The female Bees do all the work and in the Winter they throw out all the male bees. When the male bees are chucked out, they freeze to death!
At the end they let us have snacks made out of honey. Before we left the Bee Keeper let us see some of the bees that he keeps.
It was a very good day indeed.
Written by Kayan (Pines).
.
An afternoon of science fun.
"Today (12/5/16) in Science we made some irreversible experiments using Bicarbonate of Soda, Vinegar and Lemon Juice.
It was fun seeing how each material reacted when mixed together.
My favorite was when the Bicarbonate of Soda and vinegar was mixed together, because it frothed up so much. It was really fun." stated Meghan.
******
Ellie said "This afternoon we did several Science experiments.
We used materials to make a chemical reaction.
We worked together to find out what is reversible and irreversible.
It was a lovely afternoon of science fun. I wish we could do it again."
*******
Looking at Ordnance Survey Maps.
Jennifer said " I have really enjoyed topic today, because I have learnt about map symbols. However it was not any map but an ordnance survey map. This is what explorers use. I thought it was really amazing how you can tell where you are from a map."
Abi said "Today we we looked and learnt about maps. We looked at symbols. It was good."
The children have been working hard at home researching famous Brummies!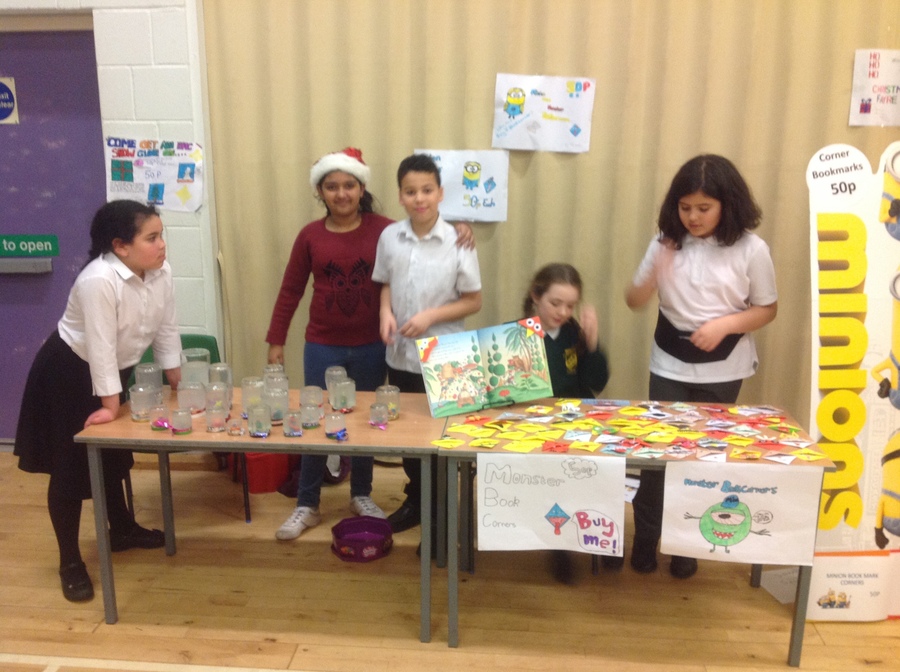 Selling the finished products. We sold all the snow globes and made £9.70.
A BIG thank you for all who supported us.
Pines are becoming little entrepreneurs. They are making snow globes to sell at the Christmas Fayre on 16th December at 3.30pm.
They start from 50p. Please come and support us.
Science afternoon at Great Barr Secondary School
Harry Potter Science.
I loved the science afternoon, the school was fantastic.
I would go there again. - Shanae
I thought it was fun because we used fire.
I enjoyed it when we made sparkles with the fire. - Haseeb
At Great Barr Secondary School Pines had an awesome science afternoon. I enjoyed when we used the Bunsun Burners to make sparklers and lit a flame based on Harry Potter. - Tejal
I liked it when we made different potions. - Abi
I enjoyed the part when we maded mater into rainbow colours.
It was cool. - Shiaqa.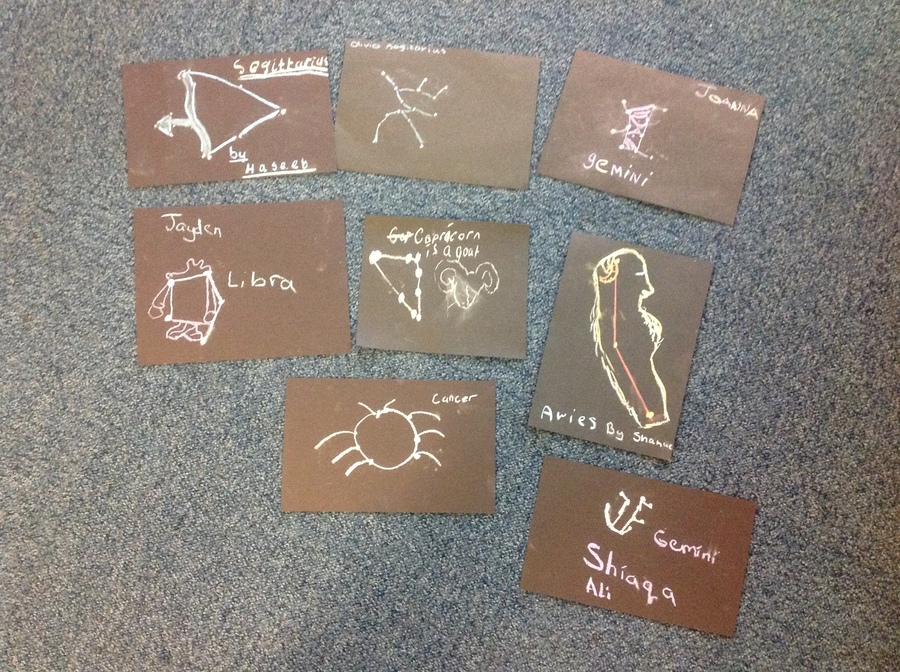 Today (21.10.15) the planetarium came to school.
Hanna wrote " I really thought that it was exciting. I learnt alot about space."
Rafayl said, " I liked it when he told us about the consellations,
because we saw the shapes in the sky."
Here are some the consellations we learnt about.
This week in English, we have been doing some 'show-not-tell'
writing to help describe emotions.
Jennifer came into the classroom after all of us . She didn't talk to anyone. The whole day she hid behind her hands . On the playground , she just played by herself . I tried to ask her to play but she just ran away. I don't know why . - Meghan