This week is Poetry week and Hailey Wilson (a poet)
is helping us to write and preform our own poem.
.
Today (20/5/16) we were heating chocolate, butter, cheese and egg.
We each took turns to hold the tongs. It was dangerous but fun.
Were the items irreversible or reversible? What do you think?
Written by Inass.
Today (11/5/16) we did experiments in Science.
We mixed different solutions and watched the reaction.
It was really fun" said Alfie.
Leader Competition for Sutton Park
"Today we planned out a route to go around Sutton Park, because we are going on a trip there. It was great fun. I worked with Melody and Mark" said Alfie.
.
Goodbye Miss Hale & Mr Kapur
The children in Sycamores wanted to throw a small party for their teachers Miss Hale and Mr Kapur. They organised it themselves and planned the whole event. There were decorations, balloons, cakes and savouries, music and lots and lots of presents.
A BIG THANK YOU to the parents/carers who supported their children.
"This afternoon we had a leaving party for Miss Hale and Mr Kapur.
It was alot of fun" said Dhru.
"Today it was a special day because we had a party for Miss Hale and Mr Kapur.
We all had food and it was the best day ever!" said Kelishay.
"I loved today because it was really fun. There was food, music and dancing.
My favourite part was when I did the whip, nay nay with my friends" said Ellis.
"This party was awesome and fun" said Kellan.
Thursday 17th March the whole school celebrated Cultural Diversity Day.
Sycamores decorated their classroom and turned it into Jamaica, with flags, music, a quiz and different foods. They had a lot of fun trying the different foods such as hard dough bread and bun and cheese. The quiz helped them learn more facts about Jamaica, they also sang and danced with Bob Marley. After experiencing Jamaica the children traveled with their passports to Russia, India, Greece, Poland and Africa.
Jamaica was my favourite because there was a lot of things to do like the drawing of the fruit and vegetables, the tasting of the different foods, the music and the quiz.
Alicia, year 6.
I think that Jamaica was the best because there was a selection of food that I could taste.
Meghan, year 6.
Some of the fantastic costumes that Sycamores choose for World Book Day.
They are characters from some of our favourite books such as, "Fantastic Mr Fox!" " Gangster Granny," Harry Potter and the Goblet of Fire," "Millionaire Boy,"
"Ratburger" and many more. Even the teachers dressed up.
Today (11/2/16) we learnt about water resistance. We made paper boats and tested them to see if they would float on the water.
Friday 5th February was Number Day.
Everyone wore tee shirts with numbers on.
Some of the children their own. It made maths exciting all day.
The children gave a donation for wearing their own clothes.
The whole school raised over £300 which will be forwarded to the N.S.P.C.C.
"I loved our Science lesson today (19/1/16).
We learnt how Isaac Newton discovered gravity by sitting under an apple tree. An apple fell on his head. Than's how it all began."
Written by Daisy
.
In English we are learning how to write a story and make a book on how to train your dragon. Today (19/1/16) we acted out part of the story in class.
It was really exciting planning the short play. We made everyone laugh, which was what we were going for. Deenah is playing Snotlout, Maya is playing Dogsbreath. Deeya is Hiccup and Ericka is playing Fishlegs.
Written by Aimee
The Life Education Van - 14th January 2016
"Today I went on the the Life Education van and learnt that your heart beats 35 million times a year. I also learnt that if you rolled out your
lungs on the ground, it would be the size of a tennis court.
I had lots of fun." by Uhmymah.
"Today I went on the Life Education van and I learnt why cigarettes and alcohol are bad for our bodies. I really enjoyed it especially when we got to take items out of a bag and examine them." by Adeeb.
Today I went on the Life Education van. I learnt how cigarettes can kill you.
I also learnt about alcohol and if you drink too much, you can get drunk.
It was great." by Matthew.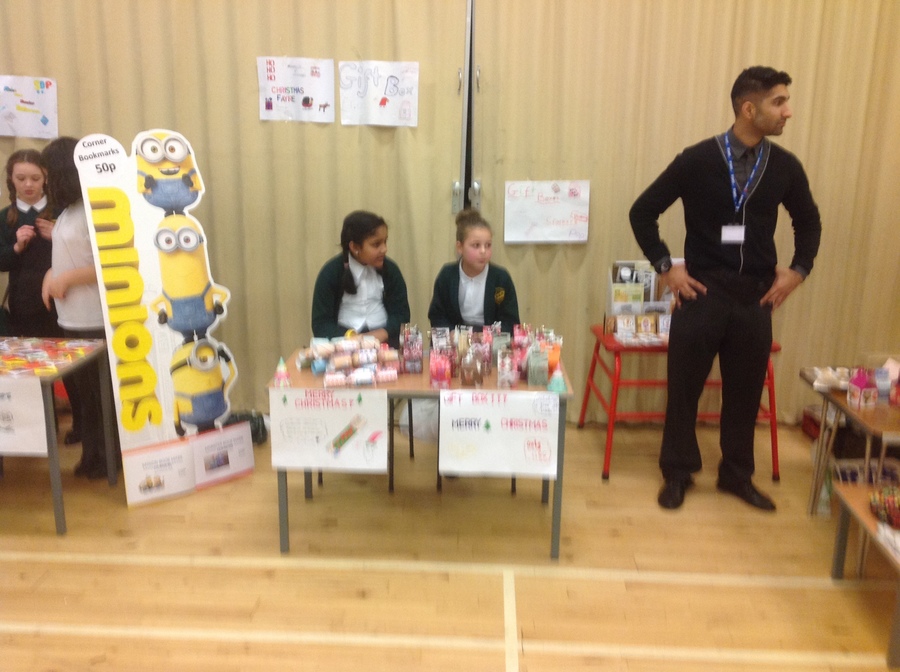 Selling the finished crackers and gift boxes. We sold all of our goods and made £60.
A BIG thank you to all who supported us.
Sycamores are becoming little entrepreneurs.
They are making gift boxes and crackers filled with surprises
for the Christmas Fayre on the 16th December at 3:30pm.
The gift bags and crackers are only £1 each. Please come and support us.
Today we experimented using different water temperatures and gravy granules, to see which temperature was the best for dissolving.
It was amazing to see the results. The hot water dissolved the gravy in 16 seconds than the cold water which took 86 seconds. - Deenah.
Today (24/11/15) we did an experimanet about dissolving and different ways to do it. It was a lot of fun and interesting. We had to put salt into three cups. Then we stirred the cups different amount of times. One cup had ten stirs, another cup had fifteen stirs and the last cup had twenty stirs. The conclusion was that the more stirs the quicker the salt dissolved. Written by Adeeb
Afternoon at Great Barr Secondary School
Harry Potter Science.
I loved today, it was EPIC!!! I loved to use the Bunsen Burners and Hagrid's toothpaste. - Daisy
Great Barr School was amazing, we learnt about alot of things in science. - Jack
Today was very exciting when we went to Great Barr School. My favorite part was when we used the Bunsen Burners. - Adeeb
I enjoyed doing the secret message. - Matthew
I enjoyed today I learnt a lot of information. I learnt about chemical and physical changes. We learnt that when some chemicals changed, they could not be changed back to it's original state. This is called irreversible. - Sarah
Today we did Harry Potter spells. They were fun and exciting. It made me think. - Maya
Today (17.11.15) we had science and we were experimenting and discussing the meaning of soluble and insoluble. We experimented with sand, chalk, rice, coffee, sugar, salt and gravy. I really enjoyed it.
Written by Inass.
On Wednesday the Hindu children in school will be celebrating Diwali.
Today (9.11.15) we learnt about Diwali, that it is the festival of light.
We made Diwali cards to give to our parents, carers and friends.
We all enjoyed this lesson.
Written by Tianna.
Today (3/11/15) we made a Medusa mask. They are very scary!
Written by Deenah.
We wrote some fabulous Halloween Poems. They are very spooky.
Written by Tianna
Today (22.10.15) Miss Hale set us an activity to write a Halloween poem.
This activity was great, none of us wanted to stop.
We added colour and pictures to our work, like coffins and ghosts.
written by Aimee
Working wall in Sycamores on Earth, Sun and Moon.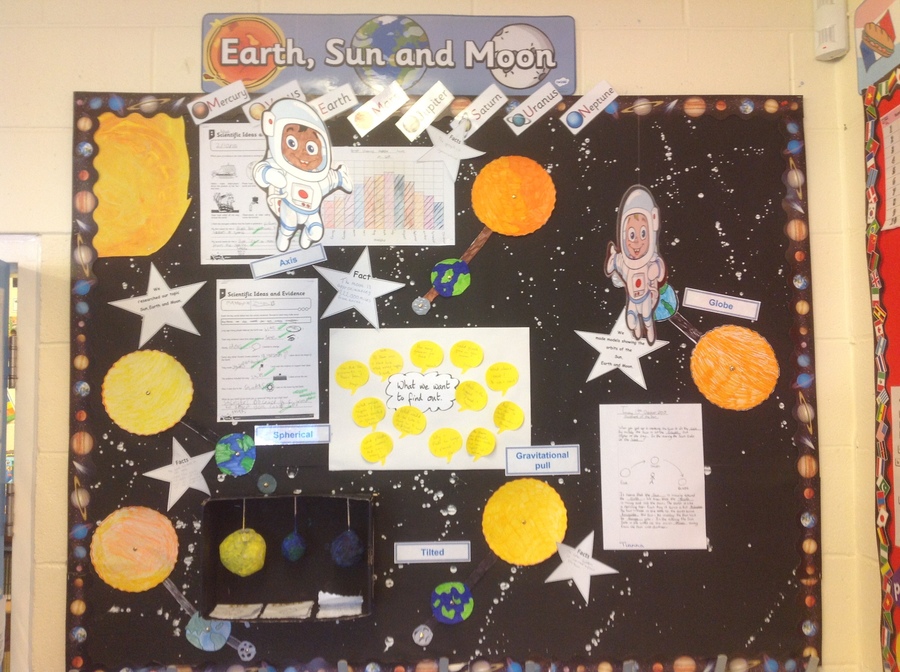 Science Afternoon - Monday 12th October 2015.
Comments from the children.
Kelishay said " I loved the Lava lamps. We used a bottle, vegetable oil, water,
a funnel, food colouring and Alka Seltzer.
Sarah said," Today it was Science Afternoon. We made Lava lamps. First we put water in a empty bottle, we then added vegetable oil.
We had to wait for the oil and water to seperate. Then we added food colouring and watched it sink to the bottom. After that we dropped in the tablet and it all bubbled up.
Daisy said, " I loved the Lava lamps because it was fun to add the Alka Seltzer tablet.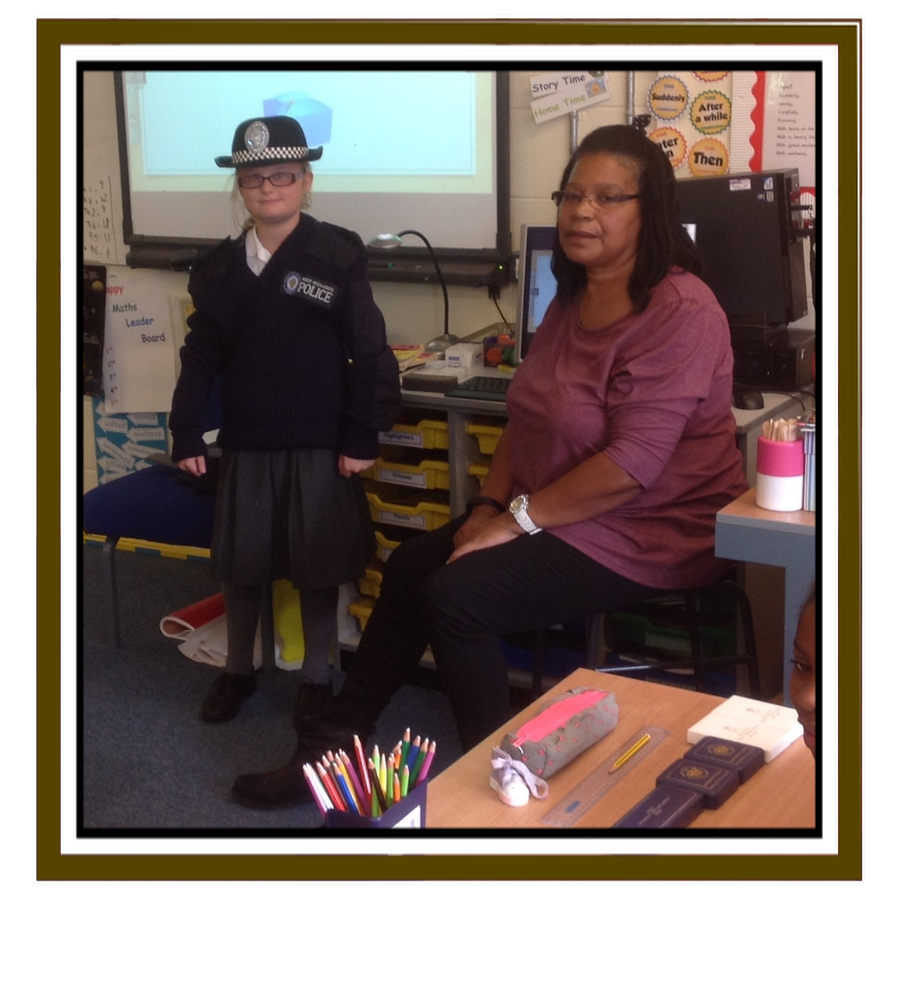 Yesterday (8/10/15) Miss Morgan told us about her life as a Police Officer. She showed us her old uniform and her medals. She taught us about the police alphabet (Phonetic).
It was very interesting. It made me think about being a Police Officer when I am older.
Written by Melody.
We made Greek Sandals good enough to wear.
Today (24/9/15) we made Ancient Greek Sandals, using lots of different materials, such as card board, loom bands, tissue papers, string, sellotape and glue. We had a lot of fun. We all did brilliant work today.
Written by Tianna and Brehanna.
Enjoying a lesson outside.
Today (10/9/15) we went outside onto the top playground underneath the crystal light sun. Why we went outside is because we drew some sketches of Greece. We drew the outline and then wrote the cities including Athens, Delphi, Marathon and a few more.
It was fun. We loved it.
Written by Harry Batters.