This morning we went to the hall only to find out we were doing Destination Maths. It was so much fun. There were countries such as Kenya, Egypt, France, Canada, Italy, Australia, Brazil, China, India, Pakistan and The USA,however there was also Birmingham and that was a city. We had a briefing from the pilot Teffer and co-pilot Teffer.
In each station we had to do something different, either mathematical things or either something to make. My partner and I found Pakistan a really easy station to do. We had a type of password but also our booklet. In Pakistan, Danny (my partner) and I had to do the symmetry picture to make mosques.
By Khadijah.
This morning we went on a trip with Pilot Teffer at Destination Maths. We had an itinerary booklet (a passport) to show where we'd been. I was with Ibrahim and we went to Brazil, Egypt, USA, Canada, Italy, Kenya, France, India, China, Birmingham (UK) and Australia but we didn't have time to go to Pakistan. At Kenya we had to measure how many cocoa beans make in 45g, 90g and 180g. In Egypt we had to copy the words but using a mirror. In France we had to make a bridge to go over River Seine. It was really fun and I enjoyed it.
By George
In this Spring term we are learning about the Rain Forest.
This is the start of our working wall.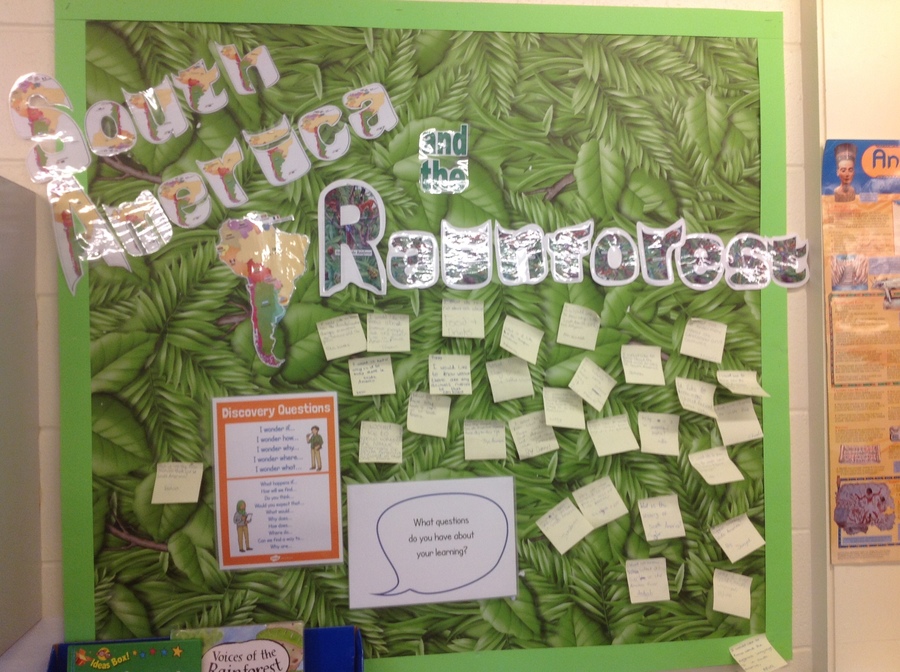 We have been putting the finishing touches to our Egyptian jewellery.
Below are some pictures of our brilliant work:
On Wednesday the 18th November we were visited by Professor McGinty. As we are studying Ancient Egypt he talked to us and taught us about Ancient Egypt. We learned about things like their clothing and daily life. We even saw a real mummy! He made us laugh and we had a fun morning.
By Rhia
Danyal and I dressed up in costumes as a Pharaoh and a Queen. The Pharaoh would wear a fake beard as a sign to the people that they should not look at him. It was really funny and I could not stop laughing, but we learned a lot.
By Dotty
Today, my class met Professor McGinty. We all learned about Ancient Egypt. Dotty and I had to dress as a Pharaoh! Professor McGinty was really funny and we all want him to come again!
By Danyal
Professor McGinty was a very funny visitor. He showed us a mummy's head (which freaked us out). We learned that the River Nile runs up the earth instead of going down. We also found out that they call Lower Egypt 'Upper Egypt' and vice versa. I had loads of fun.
By Teagan
Have a look at what Year 6 got up to on Science Afternoon: