Being an intrinsic part of language development, children are taught and encouraged to speak purposefully. As part of this process, children need to learn to listen actively. These skills are developed through drama, debate, poetry recitals and other speaking and listening activities across the whole curriculum.
Writing forms an essential part of most school activities and we are very successful at it! The range of writing includes narrative writing; poetry; reporting on events; being persuasive or writing balanced arguments; recording discoveries in Science, Topic and Mathematics; and much more.
Our writing units are unique at Beeches- planned by our teachers to suit our children. Most units are based around a high quality text, such as Kensuke's Kingdom, Leon and the Place Between or Oranges in No Man's Land. We are inspired by the authors and learn to write like them. Sometimes we have short units that are based around an animation, short film or even an inspirational image.
Within one term, the children will be taught to write in two differing styles: the writer's journey (where we pick an author's style apart, practise sections of that text and then write a whole text) and, in the other half-term, an opportunistic fashion (where we respond to the text that we are reading in a variety of ways, such as, letter writing, diaries, non-chronological reports and poetry).
Children are taught to write for many purposes and audiences; we run many motivational units such as Emergency! in Y5 where the writing is based around a four part movie with themes of hoax phone calls and peer pressure. The children get into role as teachers, police, fire fighters and paramedics and are set writing tasks by real Emergency services crew via a video. Another real success is space exploration in Y6. The children act as new recruits and are set tasks by Commander Keaton Stone via a video link.
Every writing unit has a 'wow' starter, for example, the children were greeted by an undercover police car on the playground to start the Emergency! unit; Y4 have been involved in African dance to start a unit based on Mufaro's Beautiful Daughter: and Y6 had a scary sighting to kick start their ghost hunting unit.
Every half term, we also do a 'free-write' session where children can write anything that they choose. This further enhances children's enjoyment of writing.
We present all of our whole texts in one book that we take great pride in. Ask to see one: we know you will be impressed.
Spelling, punctuation and grammar
Children learn accuracy in grammar and punctuation through weekly stand-alone sessions and constant re-enforcement whenever writing and reading. Spelling is also extended with work completed at home. Children are taught how to use dictionaries and thesauruses.
We follow the ISHA ( Improvement in School Handwriting) scheme. Teaching handwriting effectively impacts the wider curriculum and the development of the whole child.
Each letter falls into a 'family' and those groups of letters are taught at a similar time to ensure consistency and flow. Our books have lines which are designed to support the stability and presentation of each child's work.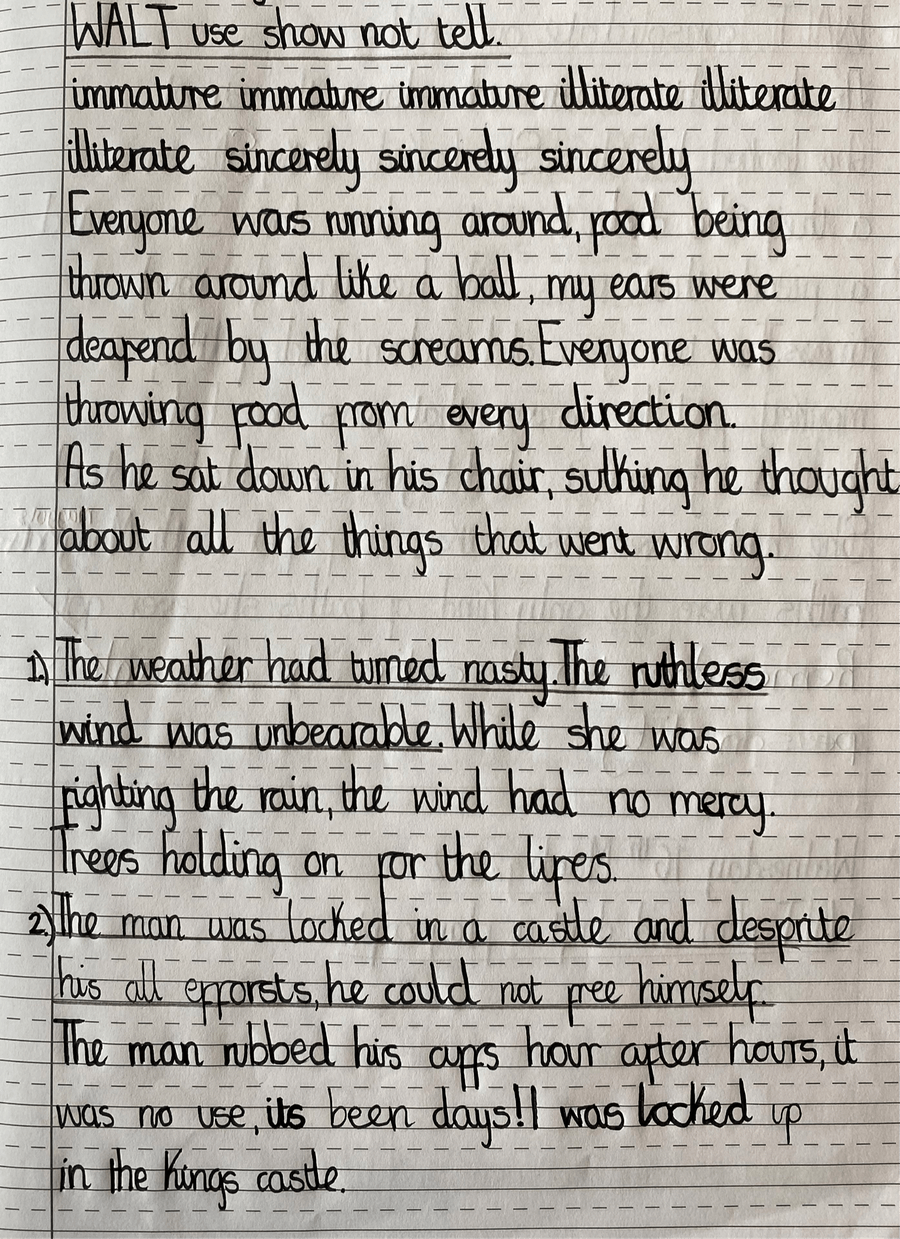 Please see our Twitter feed for images of the exciting events held at our school.