Mathematics
The maths curriculum changed in 2014. This is what we are now following.
Click the link below to view.
We are launching a new Maths Scheme of work to run in line with the new national curriculum. We will be using the Abacus scheme. We are all very excited to be using this new, fun and interactive scheme. As soon as it is all up and running, your child will receive their own personal login, which will allow them access to all the help, games, homework and much, much more to support them in their maths learning.
There has also been a launch from the government. Theirs is about having a specific test at the end of year 6, alongside the SATs, on times tables. Children will be expected to know all their tables facts up to 12 x 12 and the division facts relating to them at speed. For example: 4 x 3 = 12, 3 x 4 = 12, 12 divided by 3 = 4 and 12 divided by 4 = 3. To help with this we have put some links below for you to support your child with the learning of these. A school times tables policy will be uploaded and shared with you very soon.
Practise your number facts:
Maths Relay
All week year 4 intervention group have been learning to add and subtract in multiples of 10, 100 and 1000. Today (26/1/17) they played a game where they worked out the sum on the desk and hunted for the answer around the room.
Jessica (Spruces) said " I enjoyed this intervention, because we played a fun game and learnt about multiples of 10, 100 and 1000."
Alfie (Spruces) said, "Searching for the answers around the room was great."
Lyla (Birches) said " It was fun, we played a game and didn't know we were learning."
Year 4 intervention group (12/1/17)
Learning to divide with the help of skittles ... yum yum!
James W (Birches) said "It was a lot of fun doing maths with skittles. We shared them out and then we got to eat them.
Tyler (Birches) said "We used Skittles to learn about dividing, sharing them out equally.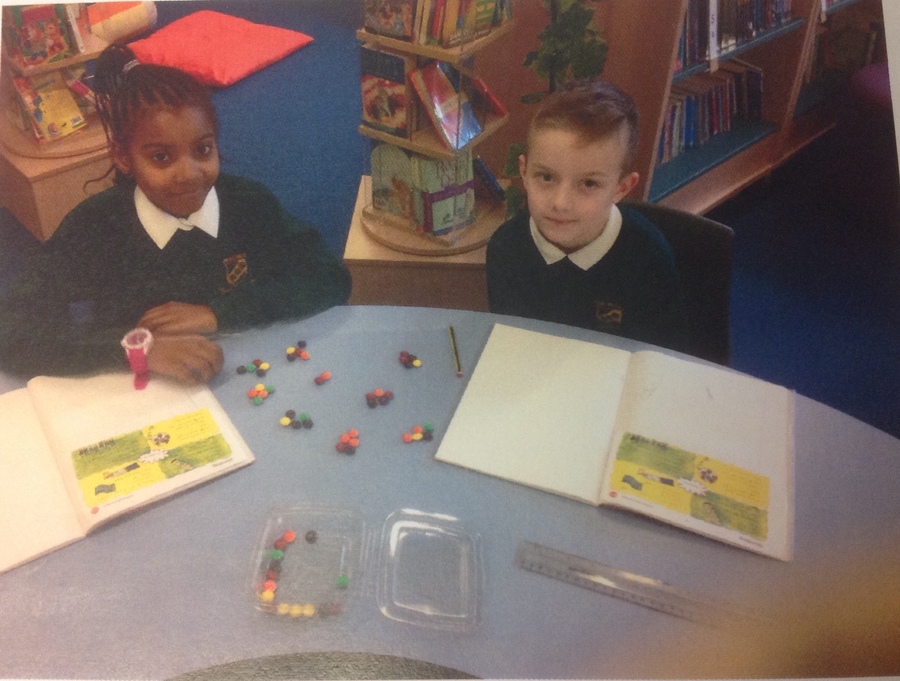 Scrabble with a touch of maths
Some of our Year Four students, when practicing their spellings, noticed that it
was not only about spelling.
Tyler (Birches) stated, " I just realised that we not only learnt to spell but we did some maths too because we had to add up our score."
.
Intervention Time
Children in Year Four are engaged in Maths intervention with Miss Morgan. Using the iPads, the children revised fractions and their tables. The apps used: Pizza 1, Squeebles and Times Table on Wednesday 16th November 2016.
Measuring
We are learning to measure in metres and centimetres using decimal notation.
During Golden Time on Friday 30th September 2016, the children made
3D shapes using the nets of Angry Birds shapes.
Ashley (Palms) said, "It was fantastic."
Calculating Capacity/Volume
On Monday 4th of July, we went outdoors to do some work on capacity. We had to choose a container, fill it with water and then estimate its volume in litres. We then went outside to measure it. We had a lot of fun with a few accidents along the way.
Written by Dhru (Sycamores)
I loved the lesson today (18.5.16).
I learnt how to use equivalent fractions.
I loved eating the doughnuts more!!!
Written by Daisy.
.
"Today (10/5/16) we had fun with place value and counters.
The more I played the game, the better I became," said Zane.
"We learnt about place value today, using the counters.
I enjoyed it very much," said Creshelle.
On Saturday 16th April 2016, at Alexander Stadium, there will be a Guinness World Record Attempt for the largest Maths Class using the TUNES TIMES TABLES Method.
In December 2010 Mr NK and his team achieved the Guinness World Record for the largest maths class of 275 people. However, since then, it has been beaten numerous times around the world. Sweden currently hold the record of 3611 people. Let's reclaim the record!
Friday 5th February was Numbers Day.
Everyone wore a tee shirt with numbers on it.
Some children even made their own tee shirts.
It made Maths exciting all day.
During Maths, Oaks (Year Three) have been looking at 3D shapes.
They have made this video to help them remember the names of the shapes.
On Tuesday 20th and Wednesday 21st 0ctober 2015, during Parents Evening, we held a mini workshop for "My Maths". Parents and students were able to log on to the system and explore all the lessons and homeworks available to them. Homework is set every week. Please encourage your child to engage in the activities, which will enable them to progress in school.
After visiting the planetarium today (21.10.15), Pines did some maths involving retrieving data about the Solar System.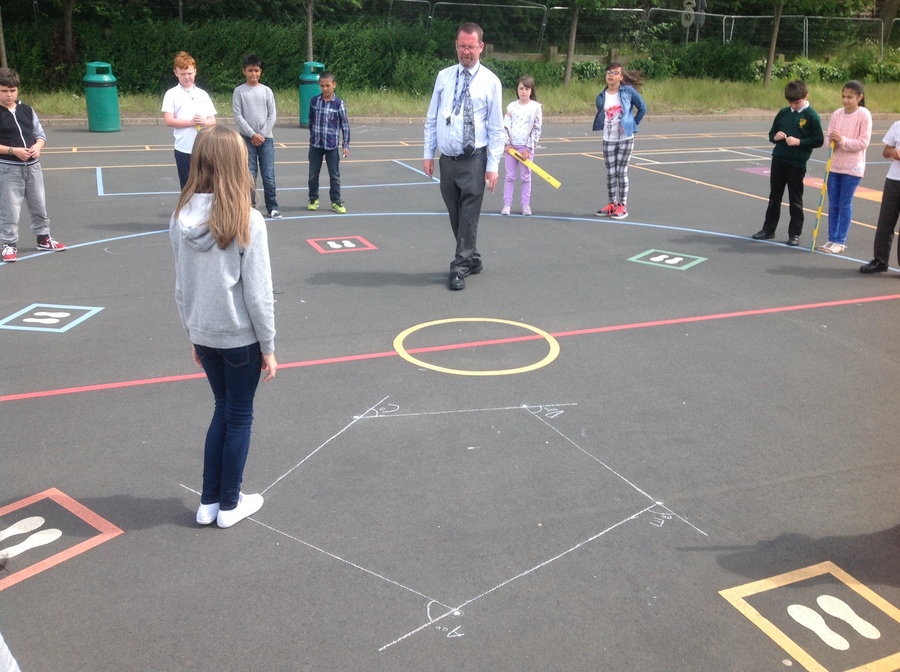 Sycamores doing outdoor Maths.
Jenna said, "We learnt about the angles of a pentagon. We had to draw and label a pentagon.
Each angle when added together totals up to 360."
.
Maths Open Afternoon
The Maths Open Afternoon saw over one hundred parents/ carers and members of the school community visit the school to take part in a plethora of Maths activities both inside and outside of the classroom. Adults and youngsters took part in orienteering, outdoor maths, drawing maps, creating artwork, making 3-D shapes, maths games, challenges and much, much more. Please see some pictures from the afternoon below and examples of work on the display board in school.